Steve Bedair
Gladewater, Texas
10-2005

5" Horizontal Wood Chipper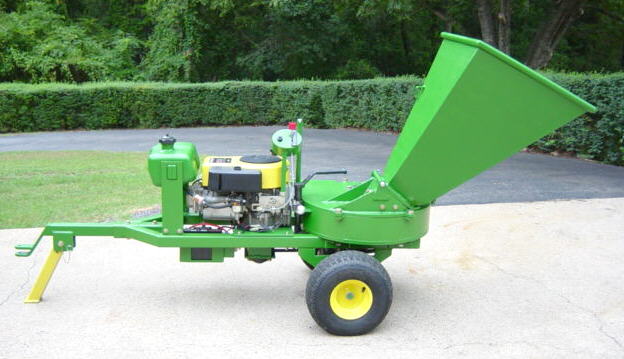 14 hp electric start 5" horizontal wood chipper

New Wood Chipper Pictures from Syd Murray Click Here
The last picture is a video of the chipper running.

Here's a wood chipper I built from the ground up. The design revolves around the 14 hp vertical shaft riding
lawnmower motor ( from my retired Murry mower). This turned out to be quite a challenge since there's not
a lot of info out there on building a wood chipper much less one that is mounted flat. Well after a few months
of machining, welding, painting and a lot of grinding it's finished and it works beautifully! It's made to be pulled
behind my John Deere riding mower so it had to be green and yellow.
I'll note that the chipper was not built for heavy duty everyday use but for occasional use around my 3 acres.
Even though the chipper has a 5" capacity I usually only chip limbs up to 2" & 3" diameter.
I've included pictures of the building process and construction notes below.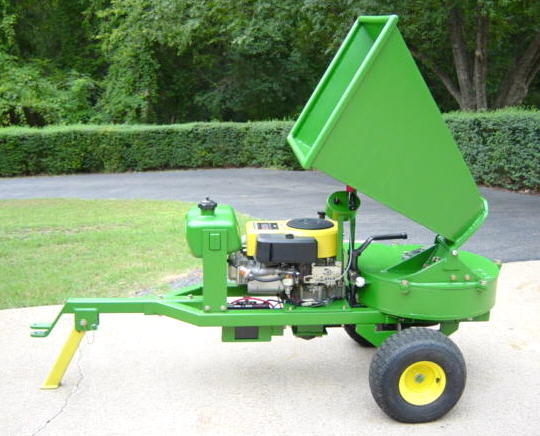 The feed chute folds back to allow easy access for anvil adjustments.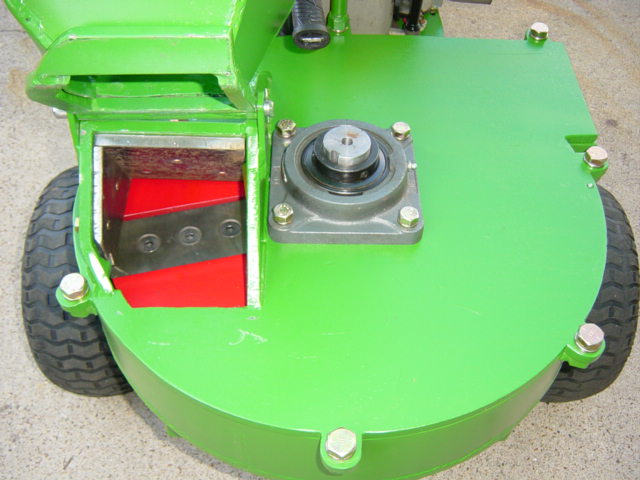 Chipper knife & anvil view. The opening here is 5 1/2" x 6".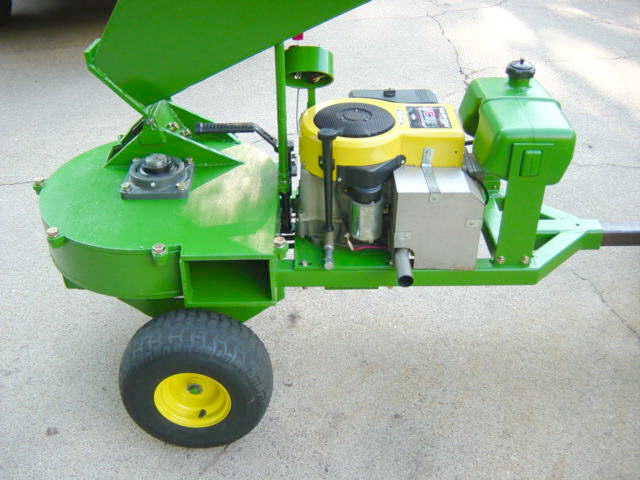 Chip discharge (still have to build a discharge chute)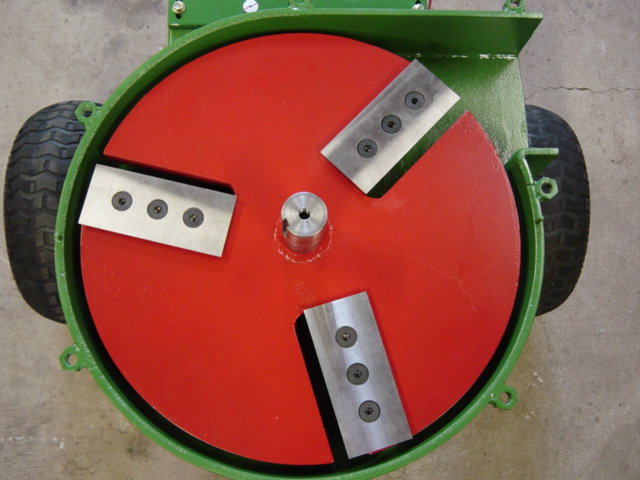 The chipper disc is 21" diameter solid steel 1 1/4" thick (approx 150 lbs). The chipper knives are 7" long and 3" wide
that I purchased from Zenith Cutter Co. The chipper disc housing is made 1/2" thick steel (top, bottom & sides)
Each knife is attached with three grade 8 bolts, lock washers and nuts.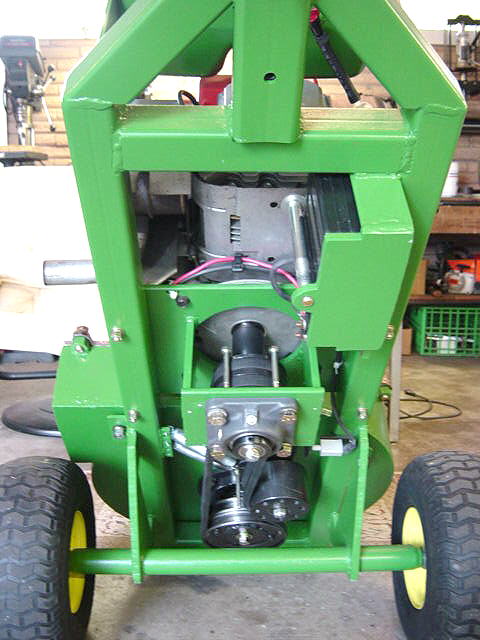 Underneath view shows outboard bearing support on motor shaft.
( the outboard bearing protects the motor from high side loads of force)
Also shows idler pulley and chipper disc pulleys. The Chipper uses
two "B" belts. I also wired in a safety switch (on right) so that the chipper
will only start with the idler disengaged.


Chippers Specifications
---
* Length 75" feed chute folded up and 94" feed chute down
* Width 36" at wheels
* Weight Heavy!! (guessing 400 to 500 lbs. ??)
* Cutter Disc RPM 1800 / 2000
* Frame 2"x 2" square tubing
* Disc Housing 1/2" thick steel (top, bottom & sides)
* Engine Briggs & Stratton 14 hp OHV IC electric start
* Drive Belts Industrial "V" B51/5L540 (two)
* Chipper Knives Zenith Cutter KCH 50101 (three)
* Feed Chute opening at chipper disc 5 1/2" x 6" & opening at feed 20" x 21"
* Exhaust opening 7" x 4 1/2"
* Wheels 15 x 6.00



If you are considering building a wood chipper please read the disclaimer here

Comments / Questions / Suggestions or Add Your Link
This information is provided for personal use only.
Copyright 2002 /2005 Steve Bedair