Steve Bedair's
Homemade Band Saw Page
Longview , Texas
4-2002

18" Woodcutting Band Saw
Page 1


If you need a band saw and have the money I'd recommend that you go buy one!
If you have more tools than $$ and you're not in a big hurry you might consider
building your own. The information here might help.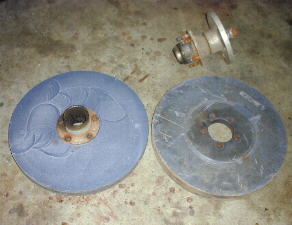 This band saw project began with finding two 18 1/2" OD x 1 3/4" heavy plastic wheels ( better known as HDPE )
from a local salvage yard. These large plastic wheels had automotive type wheel bearings / hubs and were used for
as a large dolly for something ?? Most would question a plastic wheel but they work great! I also was able to use
the aluminum hub for a bearing holder for the lower wheel. The picture on the right shows a center hub that I turned
on my 9 x 20 Harbor Freight metal lathe.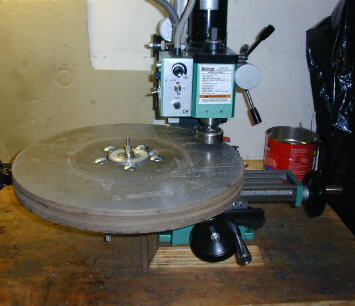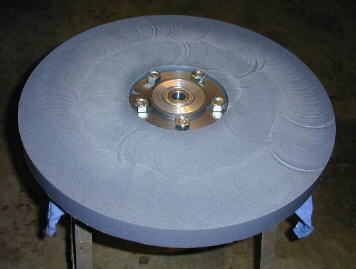 The large plastic wheels were not exactly round so I figured out a way to mount the wheels to my Grizzly Mini Mill and
true them up. If you have never milled plastic it's a lot of fun!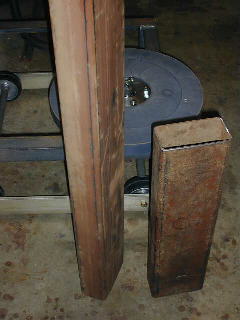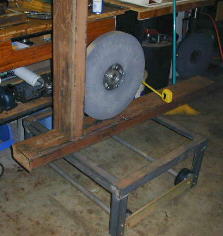 The main frame for the band saw is 6" x 3" square steel x 3/16" thick. This was found at the salvage yard.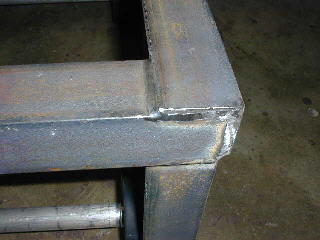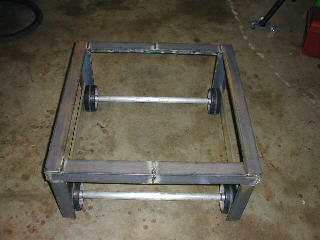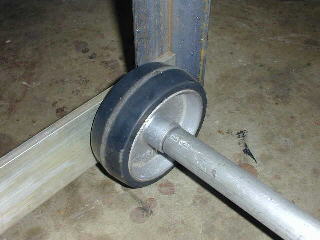 The base is built from 1 3/4" x 1/4" angle iron. All the angle iron was cut on my Clarke 4x6 metal cutting band saw
And welded. After these pics were taken I narrowed the base by removing approx. 6" to give a width of 22".
The rubber wheels are from the salvage yard and were used originally on scaffolding.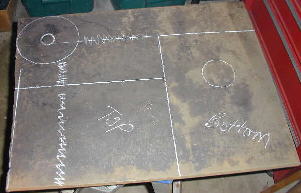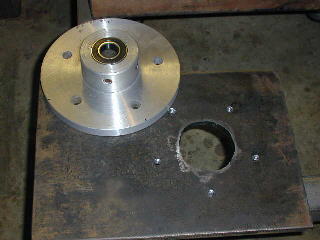 These pics show 1/2" steel plate I welded to the 6" x 3" square steel supports that hold the bearing
holders. the pic on the right shows an aluminum bearing holder used to hold the lower wheel assembly.
the bearings used here are 1" ID ( two )sealed roller bearings.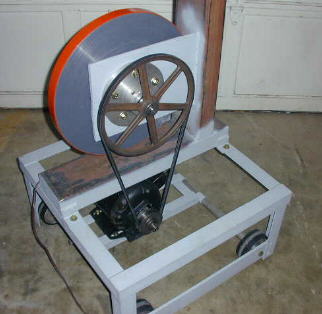 Here is the wheel / bearing assembly welded to the main support.
The pulley is from an old attic fan. ( 12" OD) The gray is metal primer.
The orange around the wheels are Urethane Band Saw Tires
from Suffolk Machinery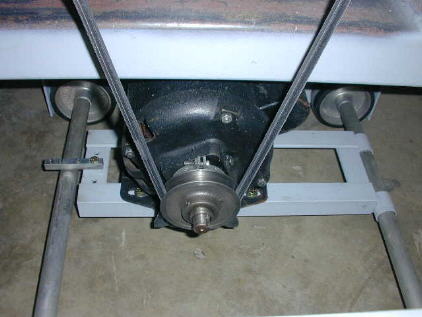 1 1/2 Hp motor mounted.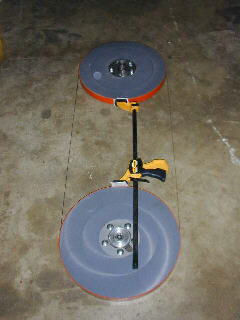 I used a thin metal band 130" long to measure the distance needed between the upper and lower wheels.
This information is provided for personal use only
Copyright 2000 - 2011 Steve Bedair