Steve Bedair's
Telescope Site
Longview , Texas
Created 2-2003

Meade LXD55 / Autostar Controlled Mount
Celestron C-11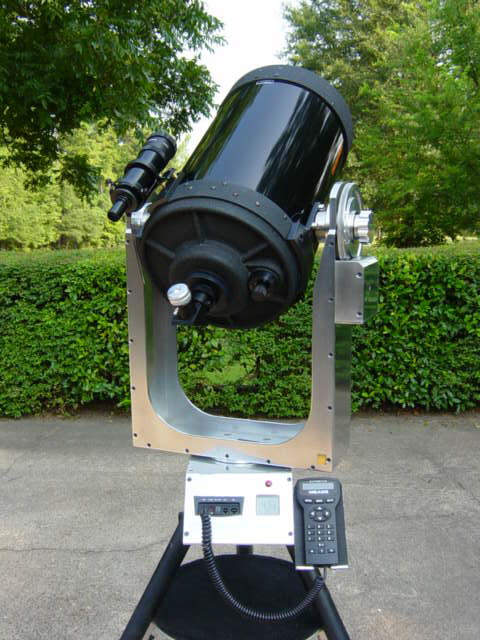 Meade LXD55 powered C-11 fork mount
Ever since Meade announced the arrival of the new LXD55 equatorial mount Autostar controlled telescopes
I was curious to see if the LXD55 motors could work to power a homemade Alt / Az mount. Well after a lot
of looking I finally found a set of the LXD55 motor assemblies and started to work on a large fork mount for
my newly acquired Celestron C-11 ota. And yes the LXD55 motors work beautifully !! The motors are noticeably
louder than the smaller Meade DS motors. The LXD motors provide a ton of torque and tracking is super smooth.
From the first night out a perfect 100 % of the targets were placed in the FOV of the C-11 at 100x.
The C-11 mount uses 200 tooth aluminum worm gears that I built myself ( shown here ). Large sealed ball
bearings are used on both the Alt & Az axis and an internal rechargeable 12 volt battery supplies power to the
mount. The mount is no lightweight but it's solid as a rock and a perfect home for the C-11.
I've included some pictures along with descriptions of the building process below.
Thanks for looking, Steve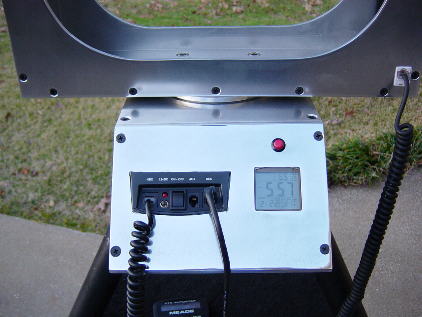 The control panel from a LXD55 mount provides all the electronic connections.
And a trademark of all my mounts is the clock on the right. It also displays
the date and temperature ( the clock can be illuminated with the red button above )


Update 3-2003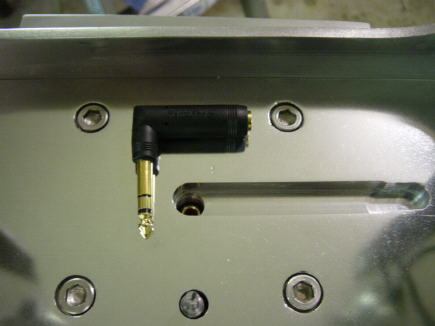 No more wires to tangle
This is a view of the inside of the forks. I replaced the coiled motor wire from the control panel
to the Alt motor. Now the wiring is routed through the center of the Az shaft and uses a "slip ring"
connection provided by a 1/4" stereo headphone connection. The forks can now spin indefinitely
without any wires to tangle. Even though the LXD55 motors have 8 wire connectors only 4 wires
are needed. The 1/4" stereo headphone connector provides a 3 wire connection and for the 4th wire
needed I used the aluminum mount itself for the ground wire ( -12 vdc ).
Thanks go out to Christopher Erickson for providing the motor wiring info.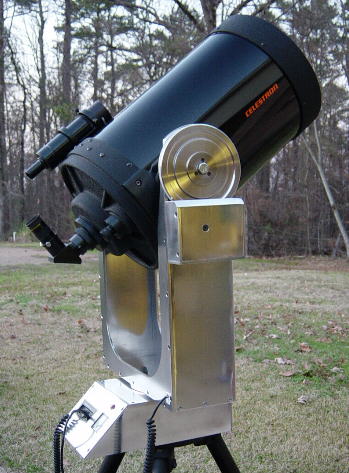 Comments / Questions / Suggestions or Add Your Link
This information is provided for personal use only.
I cannot be responsible for any joy this may bring.
Copyright 2001-2002-2003 Steve Bedair