Steve Bedair's
9 x 20 Lathe Site
Longview , Texas
6 -2002

Indexable Turning Tools
How to build your own inexpensively

Getting Started

The first item needed will be inserts. Check around there are a lot of surplus carbide insert dealers out there.
I have had the best luck with E-Bay. You will have to do a little research to find out what all those numbers mean.
Most of the insert manufactures have web sites that explain grade, size , and dimensions ( Here's one example )
There are a lot of surplus insert dealers so check around. Once you have inserts you can easily build your own holders.

I build all my tool holders from 1/2" square steel stock since my lathe uses 1/2" tooling regardless of the insert size.
The 1/2" square I use is hot rolled plain steel which is very easy to mill , tap and grind.





1/2" square stock. I purchased this from a local Tractor Supply Store
3' for around $ 7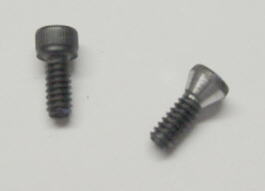 Insert attaching screws
I used 4-40 allenhead screws to attach the 1/4" inserts to the tool holders built here.
I could not find any beveled allenhead screws this small so I used the 9 x 20 lathe and added a bevel.
You will also need a tap to match the insert attaching screws.
Not all inserts use the same size attaching screw so check the size to be used first.

I have posted this information to help provide an alternative for building less expensive lathe turning tools.
I am not saying this is the best way to do it , just the way I did it.
Comments / Questions / Suggestions or Add Your Link
This information is provided for personal use only
I cannot be responsible for any $$ this may save.
Copyright 2002 Steve Bedair