Steve Bedair's
9 x 20 Lathe Site
Longview , Texas
9-02

9 x 20 Spindle Tach
Harbor Freight 9 x 20 Lathe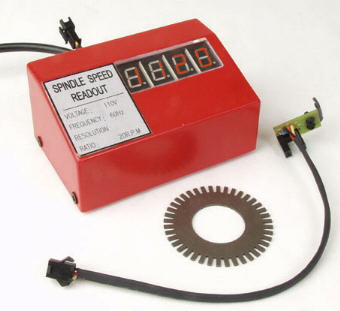 This is a 1684 spindle tachometer sold by Little Machine Shop. It's sold for the import 7x metal lathes.
The tach reads in increments of 20's ( 0 , 20 , 40 , ect ) and uses 120 vac to power it up.
The 27 mm ID encoder wheel attaches to the spindle and the electronic sensor is placed
to straddle the encoder wheel as shown below. It also includes 4 small magnets on the base
of the tach to place the tach on the headstock of the 7x machines.
---

1684 LMS tach on the 9x lathes

The first thing I noticed when I received the tach was the display. If you look closely at the picture above
you can see the white outlines of the squares that light up to create the numbers. These white lines
are visible even when the power is off. When power is applied the numbers will light up "red"
as shown in the above pic also ( shows 1120 rpm ).

To use the 1684 tach on the 9x lathe also required boring the 27 mm ID encoder wheel slightly larger to fit the
9x spindle. The electronic pick up will also have to be mounted to straddle the encoder wheel. The tach
also needs 120 vac for power which can easily be wired through the existing lathe off / on switch.

And that's it ! Easy to install and works well.
---
My Modified 1684 Tach
I'm not recommending the modifications shown below and it will void the warranty.
So travel at your own risk.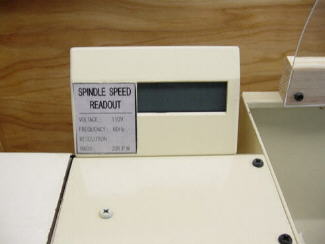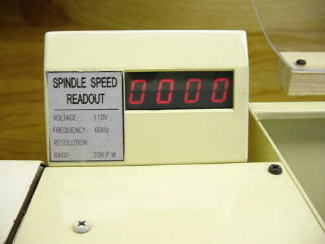 As I mentioned above the tach display shows the white outlines of the numbers at all times , even
when the power is turned off. When power is turned on the numbers turn bright red. I removed
the clear plastic cover from the tach housing and replaced with a tinted plastic cover. The results
are shown above , with the power off the display is now dark ( no white outlines )
When the power is turned on the red numbers are bright enough to show through the tinted cover.
I also painted the tach housing to match my lathe.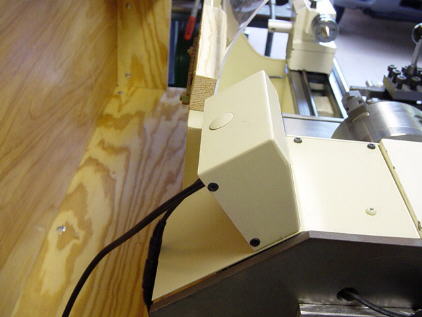 I chose to move the wiring from the top of the tach to the back.
I carefully disassembled the tach and drilled 2 small holes through the
back of the tach housing. I also had to re route the wiring and resolder
the wires ( 2 wires for the 120 vac and 3 wires to the electronic sensor )


I mounted the electronic pick up assembly to a small piece of 3/8" thick
aluminum which is attached to the steel back plate.
Note this is in the area where the idler pulley would normally be.
Since I'm using a DC motor I don't have the idler pulley anymore.
Comments / Questions / Suggestions or Add Your Link
Copyright 2002 Steve Bedair