Steve Bedair's
9 x 20 Lathe Site
Longview , Texas
9-02

Plexiglass Shield
Harbor Freight 9 x 20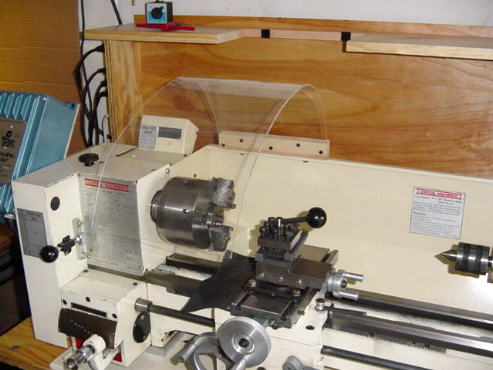 I added a plexiglass shield to protect from flying chips. Also helps to keep the
chips in the catch pan. It is shown in the work position.
I used a heat gun and carefully added a bend to the plexiglass.
The shield shown here is 9" wide x 24" long.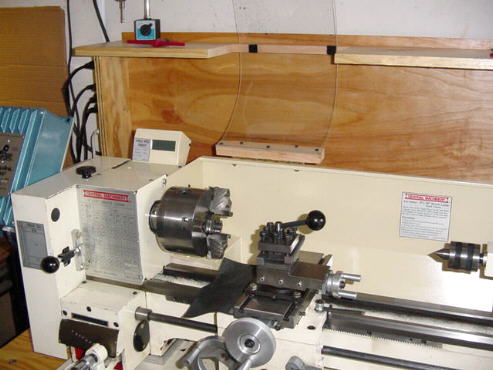 Shown here in the raised position
Had to notch out the upper shelf ( good planning! )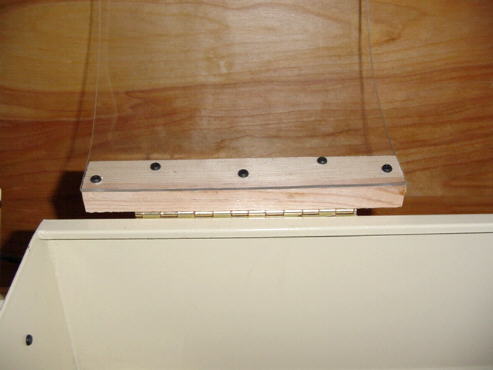 I used a brass strap hinge attached to a 1x lumber.
The plexiglass is attached with 5 screws to the wood.

I call it plexiglass but the technical name is Lucite-ES Acrylic shatter resistant sheeting medium strength plastic.
It's 1/8" thick and comes in all different sizes. I used a 18" x 24" piece that cost around $ 6 at a
local Lowes store. I cut the piece in half and made two 9" x 24" pieces. To cut I used a straight
edge and scored both sides with a utility knife then broke it in two. Good thing I had two
pieces , I broke one while heating and bending.
Comments / Questions / Suggestions or Add Your Link
Copyright 2002 Steve Bedair