Steve Bedair's
9 x 20 Lathe Site
Longview , Texas
3-2007

Larger Cross Slide Handwheel
Harbor Freight 9 x 20 Lathe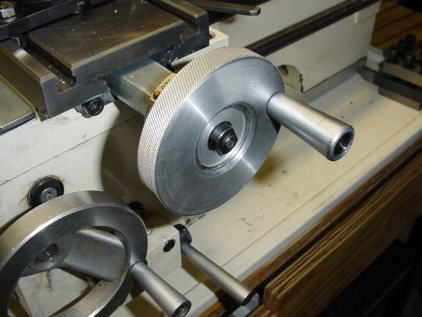 If you do a lot of facing with you lathe you will appreciate a larger cross slide handwheel.
The stock handwheel is a little less than 2 3/8" OD. I increased the OD to 3 1/8"
The larger handwheel shown above was turned from 1/2" aluminum plate and
is actually just pressed over the original handwheel. Easy to build and really helps.


Update: Here's a PDF drawing from Mike Massee (Thanks Mike!)
Click Here
Comments / Questions / Suggestions or Add Your Link
This information is provided for personal use only.
I cannot be responsible for any joy it may bring.
Copyright 2002 Steve Bedair