Steve Bedair's
9 x 20 Lathe Site
Longview , Texas
6-2002

Larger Cross Slide Handwheel
Harbor Freight 9 x 20 Lathe

This is an easy project and is actually just an aluminum cover pressed over the existing
cross slide handwheel.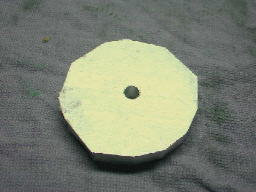 I started with an aluminum blank and used a 3/8 hole and bolt to attach the blank to the chuck. Use a long enough
3/8" bolt so that the head of the bolt will pull against the rear of the chuck jaws when tightened . This allows you really
tighten the 3/8" nut without the bolt slipping. I turned toe OD to 3 1/8".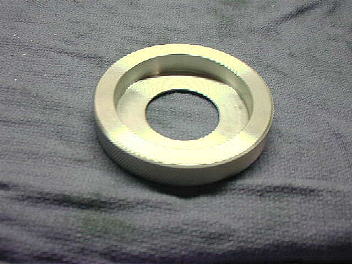 Here is the back side of the handwheel. I first bored the ID to 1.300" completely through the 1/2 plate.
I next cut the larger OD to approx .002-. smaller than the OD of the original handwheel.
The recess is cut to the thickness of the original handwheel ( approx .400" on mine )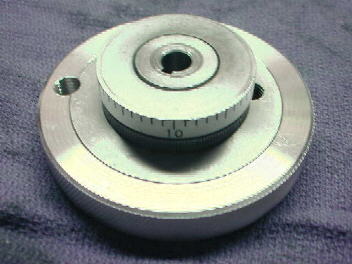 I then pressed the original hand wheel into the new aluminum cover.
Drilled and tapped ( 8mm x 1.25 ) a new hole for the handle and that's it.
I also knurled the OD for looks.
Good Luck,
Steve Bedair
Comments / Questions / Suggestions or Add Your Link
This information is provided for personal use only.
I cannot be responsible for any joy it may bring.
Copyright 2002 Steve Bedair